Tea bags, or sachet pouches, are small porous fabric bags containing different blends of teas. They are typically made from paper and thin silk with a string attached to make it easy to remove them from brewing when you're done.
The use of these little things makes it much easier than the old-fashioned way in which people used metal sieves or even their hands to steep their tea leaves!
Who Invented The Tea Bags?
The history of tea bags is interesting because many sources claim that the tea bag was invented in 1908 by Thomas Sullivan, an American tea importer in New York who was looking for a way to sell more iced tea during the summer months.
He started sending out samples of tea to his customer in a small silken bag. Those people who received his bags of tea decided to use the tea bag as a tea infuser similar to the metal infusers, rather than opening the bags up and emptying the content. It becomes the "accidental" invention of tea bags.
However, a  patent  for "tea leaf holder" was filed 7 years earlier in 1903 by Roberta C. Lawson and Mary Molaren of Milwaukee, Wisconsin. The tea leaf holder in question was a mesh bag which is eventually what we called a tea bag.
They identify issues with the way tea was commonly prepared by putting a number of tea-leaves in a pot and pouring hot water thereon. This practice involves the use of a considerable quantity of tea-leaves to prepare the desired supply of tea.
With the patented mesh bag (like the picture below), it will only contain a small quantity of tea required for a single cup of tea. The mesh bag allows hot water to pass through the content to produce a cup of fresh tea.
Evolution of Tea Bags
Thomas Sullivan went on further to develop the tea bags by changing the silk bag to a gauze which leads to the first purpose-made paper bag — perfect for mass production.
In the 1920s, these paper bags were developed for commercial production and have grown in popularity and became the way of drink tea in America.
In 1930, the heat-sealed paper fiber tea bag was patented by William Hermanson which was then sold to the Salada Tea Company.
Tea bags only looked like sacks before 1944, when the common rectangular style was invented.
In the UK, tea bags only became popular in the 1950s due to the shortage of materials after World War 2. It was largely Tetley, the British tea company that introduced tea bags in the UK in 1953, that gave the biggest push before other companies caught on.
By the late 1950s, tea bags made up less than 3 percent of the British market and rose up to 96% of the British market by 2007.
In 1952, Lipton patented its "flo-thru" tea bag and claim credit for the idea of printing brewing instruction on the tags.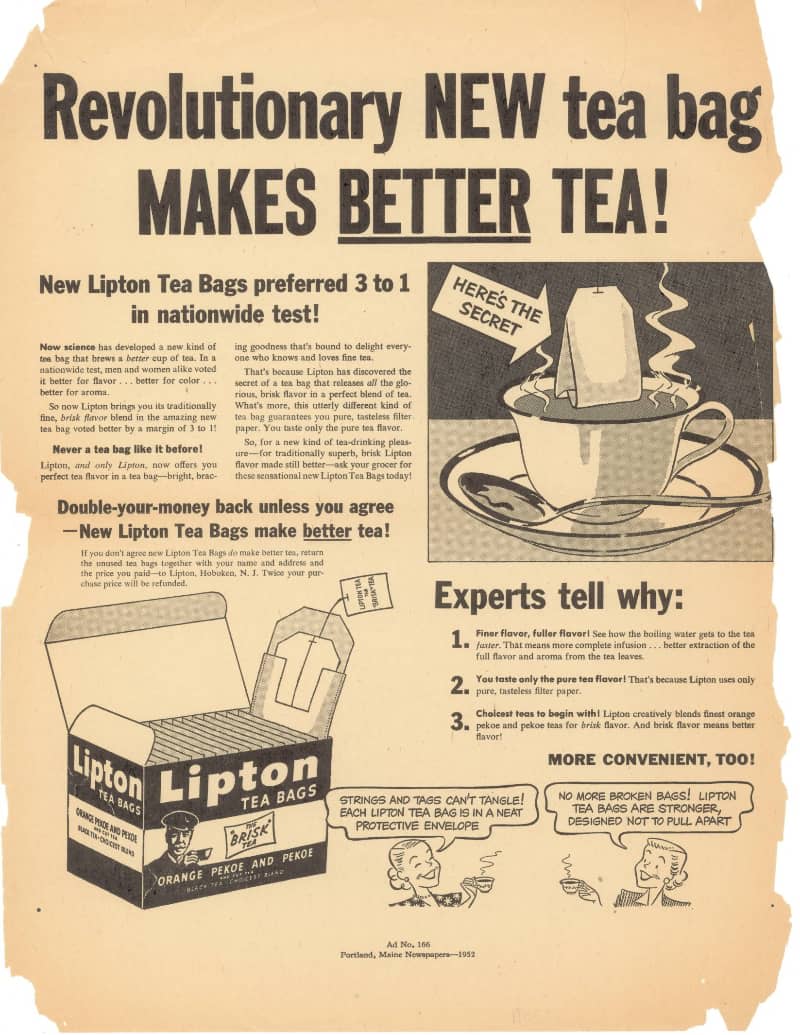 Since then, there have been many advancements made in the design and materials used for these little things that make brewing so much easier!